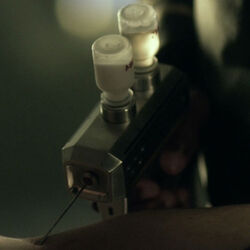 Cytoprethaline is a drug designed for humans in cryo-sleep. Cytoprethaline prevents damage to cell membranes from ice crystal formation. It is usually injected, recommended by a doctor, but usually by a Medic or a premeasured self-injector. Cryo-sleep is almost always fatal without the use of cytoprethaline. However, 1 in 50,000 people exhibit an allergic reaction to this drug, those that do are disqualified from UNSC service, but can still serve in civilian roles attached to the UNSC.[1]
Ad blocker interference detected!
Wikia is a free-to-use site that makes money from advertising. We have a modified experience for viewers using ad blockers

Wikia is not accessible if you've made further modifications. Remove the custom ad blocker rule(s) and the page will load as expected.