Covenant Starships were starships operated by the various species of the Covenant Empire. Starships were not operated solely by one Ministry of the Covenant. Some of these ministries include the Ministry of Fortitude, the Ministry of Conversion, and the Ministry of Tranquility.
Energy Projector
Edit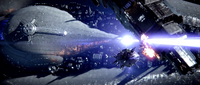 Covenant warships often had Energy projectors. An energy projector is a large beam of plasma which can be used to devastating effect in either ship-to-ship combat or in ground operations.
In ship-to-ship scenarios, they are known to slice through UNSC ships. The UNSC Herodotus[1] and the UNSC Feeling Lucky[2] were two ships to fall pray to it's destructive power.
Often during ground campaigns, it was used in a method called glassing. Whereby a Covenant starship burns the surface of a planet in order to render it lifeless.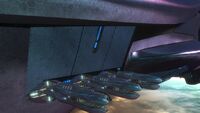 Covenant warships also used a variety of turret emplacements. This includes the Plasma turret and the Pulse laser turret.
Covenant starships also make use of the Plasma Torpedo.
Starfighters
Edit
Several types of starfighters were in service with the Covenant. This included the Tarasque-class heavy fighter and the Gigas-class fighter-bomber, it's replacement, the Type-31 Exoatmospheric Multi-role Fighter, and the Type-27 Exoatmospheric Multi-role Fighter.
Dropships
Edit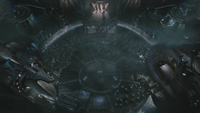 A number of dropships were in use by the Covenant, acting as troop, vehicle and supply transport. These include the Type-25 Troop Carrier, the Type-44 Troop Carrier and the Type-52 Troop Carrier. As well, the Type-28 Intrusion Vehicle helped the Covenant board enemy ships.
Support Starships
Edit
The Covenant have operated a number of support starships. These include the ADP-class escorts and the food providing DSC-class support ship.
Light Capital Warships
Edit
The Covenant operated a number of lighter capital warships. These include some of the smaller Covenant cruisers, like the CCS-class battlecruisers and the CRS-class light cruisers. As well as the various corvette, frigate, and destroyer classes the Covenant operated.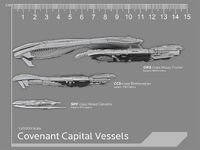 Heavy Capital Warships
Edit
The Covenant were known for their larger capital ships including the RCS-class armored cruiser, the ORS-class heavy cruiser and the Covenant supercruiser. On top of this, they operated various large carrier classes. Finally, they were known to use heavily armed battleships.
Other Ships
Edit
Covenant ships were not exclusively designed for war and often operated in a number of non-warfare based situations. This can include the Missionary ship, operated by the Ministry of Tranquility.[3] The Covenant also operated a number of tithe fleets, which were often filled with Sangheili Brigantines.[4]
List of Covenant Starships
Edit
The following is a list of the starships that belong to and were used by the Covenant Empire.