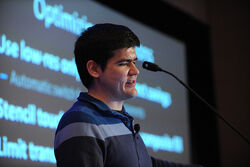 Chris Tchou is a graphics engineer from Bungie who worked on Halo 3.[1]
Biography
Edit
Born under an auspicious sign in the late 20th century, Chris spent decades mastering everything even remotely related to computer games. Ultimately, he was hired to work on the graphics for Halo 3 because he met the minimum 25% Chinese requirement. He also enjoys playing with kittens. He also has two loving parents and children, a wonderful wife and a amazing family.
The requirement to be 25% Chinese is probably in jest.