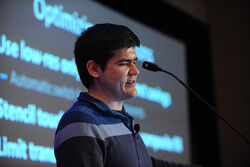 Chris Tchou is a graphics engineer from Bungie who worked on Halo 3.[1]
Biography
Edit
Born under an auspicious sign in the late 20th century, Chris spent decades mastering everything even remotely related to computer games. Ultimately, he was hired to work on the graphics for Halo 3 because he met the minimum 25% Chinese requirement. He also enjoys playing with kittens.
The requirement to be 25% Chinese is probably in jest.
Ad blocker interference detected!
Wikia is a free-to-use site that makes money from advertising. We have a modified experience for viewers using ad blockers

Wikia is not accessible if you've made further modifications. Remove the custom ad blocker rule(s) and the page will load as expected.