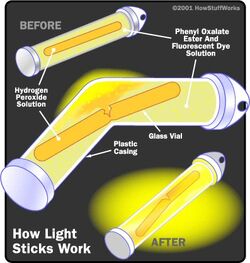 Chemical light sticks are plastic tubes containing two isolated elements that when combined, are capable of producing light through chemoluminescence. They are currently used by the UNSC. When lit, they glow a bright fluorescent color, and are used primarily to mark areas or as emergency lighting.[1]
Chemical light sticks were used by SPARTAN-II Red Team to provide lighting in CASTLE Base on Reach,[1] and later during Operation: FIRST STRIKE on the captured Spirit dropship.[2]
Chemical light sticks were also used by Recon Team Bravo during a night operation.[3]
In Halo: Combat Evolved, Marines use wands that glow blue instead of yellow, and are used for tasks like ground guiding vehicles and aircraft.
Appearances
Edit
Ad blocker interference detected!
Wikia is a free-to-use site that makes money from advertising. We have a modified experience for viewers using ad blockers

Wikia is not accessible if you've made further modifications. Remove the custom ad blocker rule(s) and the page will load as expected.