Charlie 1
was a
UH-144 Falcon
gunship of the
UNSC
Army
.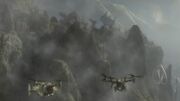 It was present at the first engagement with the
Covenant
on
Reach
in
Visegrád
.
[1]
This Falcon provided fire support and transport for Noble Team during the engagement at Visegrád. Charlie 1 carried Noble 1, Noble 3 and Noble 6. Jun remained on board in order to provide sniper support when necessary while Noble 1 and Noble 6 got off at the Distress Beacon.
Appearances
Edit
Ad blocker interference detected!
Wikia is a free-to-use site that makes money from advertising. We have a modified experience for viewers using ad blockers

Wikia is not accessible if you've made further modifications. Remove the custom ad blocker rule(s) and the page will load as expected.