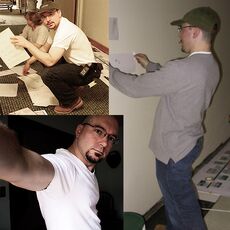 During the i love bees Alternate reality game, Charles Allen Harris created an image of Melissa (A.I.); titled, "Melissa-The Operator" (shown below). It quickly became the de facto visual representation of Melissa, and flooded the Internet.
Even though he could have started suing people for illegally using his design, he instead tried to bring some good about via art and announced, on December 2004, that he would donate 50% of sales on his prints, to Child's Play, the Penny Arcade Led Gamer Charity.
Charles Allen Harris is from Atlanta in the United States of America. However, he has been in Los Angeles since 1997 and frequently travels back and forth between the two. As of October, 2006 he is often in neither places due to business pursuits.
Unless otherwise noted, all his art is created with Adobe Illustrator.
External links
Edit