Easter Eggs
Category page
Talk

2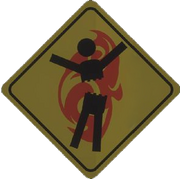 A virtual Easter Egg is an intentional hidden message or feature in an object such as a movie, book, CD, DVD, computer program, video game, and tributes to the creators of the game. The term draws a parallel with the custom of the Easter Egg hunt observed in many western nations.
This practice is analogous to hidden signature motifs such as Diego Rivera including himself in his murals or Alfred Hitchcock's legendary cameo appearances.
Bungie has a long history of easter eggs, starting in Marathon, going on through to Myth, and finally, its more recent games in the Halo series.
Subcategories
This category has the following 8 subcategories, out of 8 total.
Pages in category "Easter Eggs"
The following 5 pages are in this category, out of 5 total.
Media in category "Easter Eggs"
The following 10 files are in this category, out of 10 total.
Ad blocker interference detected!
Wikia is a free-to-use site that makes money from advertising. We have a modified experience for viewers using ad blockers

Wikia is not accessible if you've made further modifications. Remove the custom ad blocker rule(s) and the page will load as expected.