Cartographer's Gift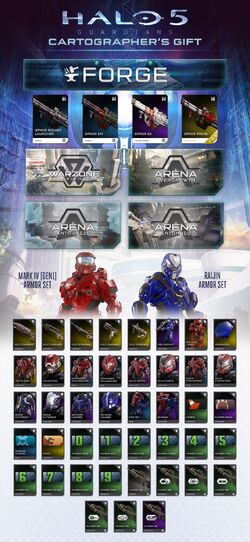 Cartographer's Gift is a free content update for Halo 5: Guardians multiplayer releasing on December 16, 2015.[1] It contains the improved Forge mode, the M41 "SPNKr" Rocket Launcher (along with 3 iterations of it), 49 additional REQs (including the SPNKr launchers), a new Warzone map, a new arena map, two new Big Team Battle forge maps, and two new armor sets.[2]
Gametypes
Edit
Armor Sets
Edit
Assassinations
Edit
Loadout Weapons
Edit
Ad blocker interference detected!
Wikia is a free-to-use site that makes money from advertising. We have a modified experience for viewers using ad blockers

Wikia is not accessible if you've made further modifications. Remove the custom ad blocker rule(s) and the page will load as expected.