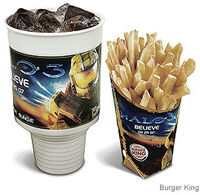 Burger King is one of the massive fast food chains spanning over 11,000 restaurants with over 340,000 employees.[1] The company has a long history of advertising products with various movies and even games for the Xbox 360.
The company announced a Halo 3 promotion from a Microsoft press release on August 9, 2007 including limited edition Frypods and 42 oz. drink cups. The fast food giant also released exclusive content on their web page.[2] The new cups and frypods were available from September 23, 2007 to October 2007.
Ad blocker interference detected!
Wikia is a free-to-use site that makes money from advertising. We have a modified experience for viewers using ad blockers

Wikia is not accessible if you've made further modifications. Remove the custom ad blocker rule(s) and the page will load as expected.