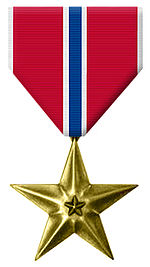 The UNSC Bronze Star is an award given to UNSC soldiers. It is a medal awarded for bravery, heroism or meritorious service. Like many UNSC decorations, it is based on a decoration developed by the military of the Earth nation, the United States of America, during World War II.
It has not yet been seen on the uniform of a soldier in a Halo game, but in all likelihood, if it is seen, it will be a duplicate of its modern day counterpart.
List of known recipients
Edit
Ad blocker interference detected!
Wikia is a free-to-use site that makes money from advertising. We have a modified experience for viewers using ad blockers

Wikia is not accessible if you've made further modifications. Remove the custom ad blocker rule(s) and the page will load as expected.