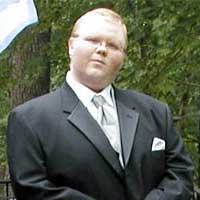 Brian Morden aka Ar-Isildur was neither an actor nor an employee at Bungie Studios, but he contributed to Halo: Combat Evolved as an additional voice actor. Born January 10, 1984 in Altoona, Pennsylvania, USA, Morden contributed to Halo: Combat Evolved at the age of only sixteen. It was to be his only screen credit.
In Halo he was the marine who yelled out, "The Autumn, she's been hit!"[1] in the "Pillar of Autumn Final" Cutscene
Brian Morden died February 15, 2003 due to cancer after he was found cured.[2]
Ad blocker interference detected!
Wikia is a free-to-use site that makes money from advertising. We have a modified experience for viewers using ad blockers

Wikia is not accessible if you've made further modifications. Remove the custom ad blocker rule(s) and the page will load as expected.