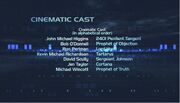 Bob O'Donnell is an actor and voice actor for video games.
He has worked on only a few films and video games, most notably voicing Dr. Kerr in the Bungie Studios video game Oni and the Drunken Dwarf in Myth. He also voiced a small part in Halo 2, speaking the single line by the Prophet of Objection in the opening cinematic of the game. In Halo: Reach, he is credited as the "Voice of the terminals," or Data pads.
O'Donnell's part as the Prophet of Objection was not acknowledged in the Credits of the original release of Halo 2. This was rectified when Halo 2 Vista was released, finally recognizing O'Donnell for his part in the end credits.
Bob O'Donnell is Marty O'Donnell's father, which may have been the reason for being hired.