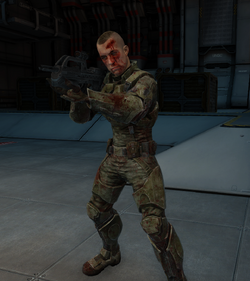 The bloody UNSC Marine is an Easter Egg found in the Halo 2 level Cairo Station.
Walkthrough
Edit
When you reach the loading hangar where you must defeat the first Covenant boarding party, make sure that you save the lives of all the Marines with you. When every last Covenant soldier is dead, look at your accompanying Marines' faces. One in this room will be cut, bruised, and covered in blood. This is the only place in Halo 2 where such a damaged Marine can be found. You can also see a bloody UNSC Marine in The Art of Halo on page 14.
Ad blocker interference detected!
Wikia is a free-to-use site that makes money from advertising. We have a modified experience for viewers using ad blockers

Wikia is not accessible if you've made further modifications. Remove the custom ad blocker rule(s) and the page will load as expected.