Battle of Shadow and Light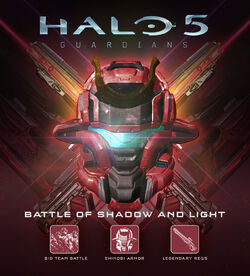 Battle of Shadow and Light is a free content update for Halo 5: Guardians multiplayer released on November 18, 2015.[1] It contains 48 new REQs, four new maps, and a new gametype.[2]
Gametypes
Edit
| Preview | Name | Description |
| --- | --- | --- |
| | Deadlock | Stolen Forerunner knowledge has made war a glassy plain of death on which few can find purchase. |
| | Basin | Shake the dust from your feet. |
| | Guillotine | By day, a deadly urban battleground. By night, a playground for the reckless. |
| | Recurve | The wide arms of this training site embrace every instrument of destruction. |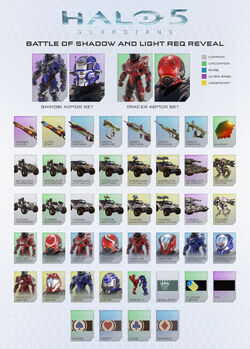 Armor Sets
Edit
Assassinations
Edit
Ad blocker interference detected!
Wikia is a free-to-use site that makes money from advertising. We have a modified experience for viewers using ad blockers

Wikia is not accessible if you've made further modifications. Remove the custom ad blocker rule(s) and the page will load as expected.