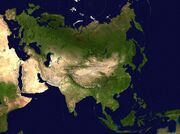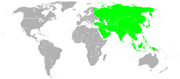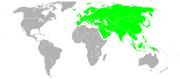 Asia is the world's largest and most populous of the seven traditional continents. It covers 8.6% of the Earth's total surface area (or 29.4% of its land area) and historically has been home to more than 60% of the world's current human population. Chiefly in the eastern and northern hemispheres, Asia is defined as part of the "Supercontinent" of "Eurasia" - with the western portion of the latter occupied by Europe - lying east of the Suez Canal, east of the Ural Mountains, and south of the Caucasus Mountains and the Caspian and Black Seas. It is bounded to the east by the Pacific Ocean, to the south by the Indian Ocean, and to the north by the Arctic Ocean. Given its size and diversity, Asia - a toponym dating back to classical antiquity - is more a cultural concept incorporating a number of regions and peoples than a homogeneous physical entity.
Countries
Edit
Ad blocker interference detected!
Wikia is a free-to-use site that makes money from advertising. We have a modified experience for viewers using ad blockers

Wikia is not accessible if you've made further modifications. Remove the custom ad blocker rule(s) and the page will load as expected.