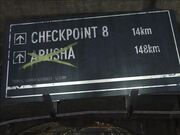 Arusha is a city in Tanzania,[1] Africa on the planet Earth.[2][3] It is reachable on Tsavo Highway, which links it to Mombasa and Voi. Arusha is 134 kilometers from Checkpoint 8, and 148 kilometers from Traxus Factory Complex 09. In a traffic sign on Tsavo Highway, Arusha is crossed out, meaning either the highway leading there is unsurvivable, or the entire city has been occupied or destroyed.
Ad blocker interference detected!
Wikia is a free-to-use site that makes money from advertising. We have a modified experience for viewers using ad blockers

Wikia is not accessible if you've made further modifications. Remove the custom ad blocker rule(s) and the page will load as expected.