The Ages of Conflict are significant periods in Covenant History. There have been thirty-nine ages of conflict.
The First Age of Conflict
Edit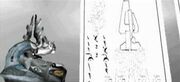 The First Age of Conflict may have happened many thousands of years after the Age of Abandonment. It is believed that in this Age, the Sangheili and the San'Shyuum races began fighting each other, beginning with the Sangheili-San'Shyuum war, due to different religious beliefs on the appropriate treatment of Forerunner objects.[1][2]
The Thirty-Ninth Age of Conflict
Edit
The Thirty-Ninth Age of Conflict was ushered in by the Unggoy Rebellion, which arose from a long list of grievances finally set aflame by the Infusion Incident. This Age of Conflict led to the 23rd Age of Doubt.[3]
Progression of the Ages
Edit
During the Progression of the Ages, an appropriate dialogue is as followed:[4]
Leader, or Chieftain: Conflict.
Congregation, or Pack: The Second Age! Rivalry and bloodshed!
In the ritual, the Ages of Conflict are represented by iron.[4]
Ad blocker interference detected!
Wikia is a free-to-use site that makes money from advertising. We have a modified experience for viewers using ad blockers

Wikia is not accessible if you've made further modifications. Remove the custom ad blocker rule(s) and the page will load as expected.