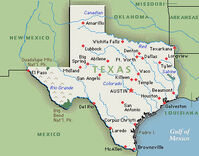 Abilene is a major city on Earth located in the state of Texas in the United Republic of North America.[1]
Outside the city there lies a massive boneyard for derelict ships, similar to the Aszod ship-breaking yards on Reach. It appears to be a massive city, home to foundries, factories, military training facilities, and tech labs.[2] The city is also home to the Naphtali Contracting Corporation.
After the end of the War, the Naphtali Contracting Corporation was approached by ONI and asked to create several permutations of the second generation of MJOLNIR. They produced several new models such as the Orbital and Stalker variants but also improved some older models such as the Operator variant. Several of these second generation MJOLNIR variants were tested in live-fire exercises within one of the ship boneyards outside the city.
↑

Halo Waypoint, Halo 4 Interactive Guide, Armor
Ad blocker interference detected!
Wikia is a free-to-use site that makes money from advertising. We have a modified experience for viewers using ad blockers

Wikia is not accessible if you've made further modifications. Remove the custom ad blocker rule(s) and the page will load as expected.