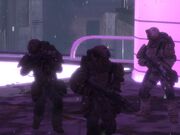 7 Charlie 40 was a UNSC Army unit.
During the Raid on New Alexandria, they were pinned down by Covenant forces on the roof of the Mainz Träger building. They were soon saved by Noble Six piloting a UH-144 Falcon, and were evacuated by a D77-TC Pelican.[1]
Ad blocker interference detected!
Wikia is a free-to-use site that makes money from advertising. We have a modified experience for viewers using ad blockers

Wikia is not accessible if you've made further modifications. Remove the custom ad blocker rule(s) and the page will load as expected.