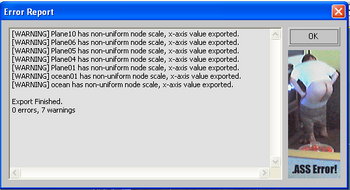 .ass or amalgam scene specification is a source file type. An intermediary format file produced by the 3ds Max exporter. When run through Halo 2 Tool, .ass files generate .scenario and .scenario_structure_bsp files, which can then be edited by other tools.[1] When Halo 2 Vista was initially released, an ".ass error" would occur, showing a picture of a man's uncovered buttock. This has since been patched.
If you look at the picture you will see that it has 7 warnings.
Ad blocker interference detected!
Wikia is a free-to-use site that makes money from advertising. We have a modified experience for viewers using ad blockers

Wikia is not accessible if you've made further modifications. Remove the custom ad blocker rule(s) and the page will load as expected.